It's my beautiful niece Izabella's 2nd birthday coming up in August. The theme is a Woodland Fairy party so here are some ideas for the perfect set up!
Helena x
My Guide to a Woodland Fairy Party
Every fairy party needs fairy dust...just add some glitter to tightly sealed jars and puncture some holes through the jar lids to allow the fairy dust to come out when sprinkled. Definitely something for outside!
Tree stumps make great 'little person' seats and look even more the part when the tops are painted like toadstools. If you don't have any old trees lying around to chop up, (most of us don't) then contact a local tree lopping company to see if you can pick up some stumps of them before they mulch them.
A giant teepee makes the best fairy home! To make a base you will need three sturdy poles, you could probably find something useful at Bunnings and get some rope to bind the poles together at the top.
Alternatively you could get a mosquito net and hang that from a tree and spread the netting out where it touches the ground or a third option is to tie a rope from one tree to the next and peg sheets from the rope to the ground so it resembles a tent shape. Which ever way you choose, just d
ecorate with bits of fabric, branches, fairy lights and feathers for a magical feel.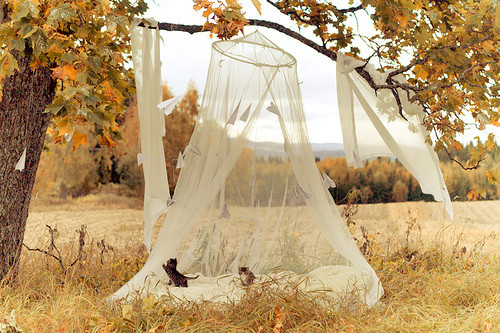 Fairy lights, pom poms and garlands add magic to any party!
Toadstool cupcakes are perfect for a fairy party and to decorate your table try using sheets of sushi paper for a grass like effect. You can cut them into the shape of a leaf.
Nothing beats bubble blowing to keep kids entertained...
...But then again, kids are kids, they'll always find something to entertain themselves with!